Vicarious living for you! We had to get a point and shoot digital camera for an upcoming wedding my wife is shooting (it's going underwater! woooooo) But it also means I get to have a new toy to take around town and show you some stuff.
First: Me, and a plethora of monkeys gifted to me through the years (and yes, my fanboy fight club print/Chuck Shrine)…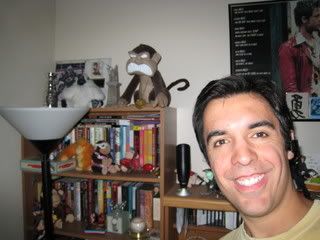 My 'hood: Leimert Park – this is my street. Great old style architecture…nice neighbors, kind of the best kept neighborhood secret in town
The actual Leimert Park is a great collection of store, art houses, and this, the Lucy Florence CoffeeShop, which is amazing with their cakes and food and cakes and stuff.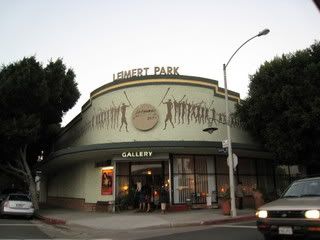 Here's a great mural in Leimert Park, on the side of a bookstore. I once heard a conversation in here where two black radicals were talking about how "blood needed to be shed" to solve "the problem". Awkward…
Driving over Baldwin Hills down Stocker, we pass the oil fields…if you've seen Mulholland Falls, you'll remember this area…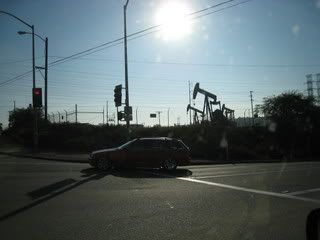 I'll do my best to take requests in this thread. I don't go to too many touristy places, but if there's a movie location you know about, let me know…maybe I can shoot it…
Next… a trip to Pann's!